If you're my age, you probably remember Bo Jackson pretty well. You recall his amazing runs at Auburn, his untackleable Tecmo Bowl character from his Raiders days, or his home run to open the 1989 All-Star Game. He was a phenomenal athlete and a huge star whose career was cut way too short.
I was wondering if Jackson had ever hit a walk-off home run. He did not disappoint. In fact, it came the Saturday before that famous 1989 All-Star Game.
Jackson's Royals trailed the White Sox 3-2 going into the bottom of the ninth inning, after George Brett had gotten doubled off second base on Jackson's flyout to end the eighth inning. But Jackson and Brett's teammate, Danny Tartabull picked them up with a game-tying home run against White Sox closer Bobby Thigpen in the ninth inning.
The game stretched to the 11th inning where Jackson led off against John Davis and on a 2-1 pitch, he hit a home run that cleared the fence in left center by more than 30 feet. It was his 21st home run of the season. Brett was the first to greet Jackson after the home run. You can see it here.
It was good timing too. The Miami Herald ran a 2,000-word feature by Bob Rubin on Sunday spotlighting Jackson's phenomenal athletic ability (it asked if he was from the planet Zork). This was Bo Jackson at his peak. There was talk he could go 40-40 (he finished with 32 home runs and 26 steals).
"Watching Bo," Mark McGwire said in the article, "he just belongs in another league."
It's funny to note that the next day, Jackson came up in the bottom of the ninth in another walk-off scenario, with Brett on second and one out in a tie game. He was intentionally walked. The next batter, Willie Wilson, hit a game-winning single. I suppose White Sox manager Jeff Torborg laughed when he watched Jackson homer in the All-Star Game and thought to himself "at least he didn't do that."
Bo Knows Minutiae
– Jackson is better known for a walk-off denial. That came in the form of a 300-plus foot throw on the fly from the left field warning track on Scott Bradley's double, to nail Harold Reynolds at the plate in the bottom of the 10th inning of a tie game against the Mariners in Seattle on June 5, 1989.
"There is no one on the planet who can make that throw, but Bo did," said Royals catcher Bob Boone.
By the way, in batting practice that day, Jackson hit a 480-foot home run.
"I'm a better defensive player than offensive," Jackson said afterwards.
If you want to see the throw, click here.
– The Royals needed Bo Jackson that season. They were 79-54 that season
when he started, 13-16 when he didn't.
– Bo Jackson never had a walk-off touchdown in the NFL. Of his 18 scores, 16 of them came in the first three quarters.
– If you had asked me which team Bo Jackson finished his MLB career with, I would have said the White Sox. I would not have guessed the Angels, for whom he concluded with in 1994.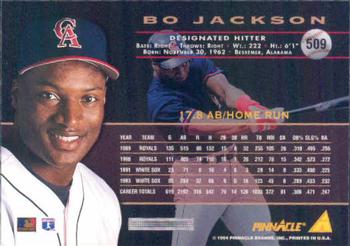 – Bo Jackson's penchant for striking out makes some of his numbers rather comical. He had 20 strikeouts in 28 at-bats against Mark Langston, 13 in 24 at-bats against Roger Clemens, 11 in 20 at-bats against Randy Johnson and 12 in 20 at-bats against Nolan Ryan. He did hit a 461-foot homer vs Ryan though.